One of the fun things about social media is that no matter what you're into, there's some corner of the Internet where you can share your passions with like-minded people.
Yes, even geology. People who love rocks & minerals can swap pics of their favorite natural relics, & the Tumblr account bijoux-et-mineraux has been a favorite landing place for those interested in "Minerals, Crystals, & Fossils".
And dildos. Apparently.
A Tumblr account's pics of a polished rock has gone viral because of it's resemblance to a sex toy, & the comments are comedy gold.
Now for those that are not familiar with malachite stalactite (and why would you be, amirite?), it's a gorgeous emerald green rock that's commonly found in The Congo.
One geology fan decided to share a malachite stalactite in all it's polished glory… and it certainly is quite a specimen.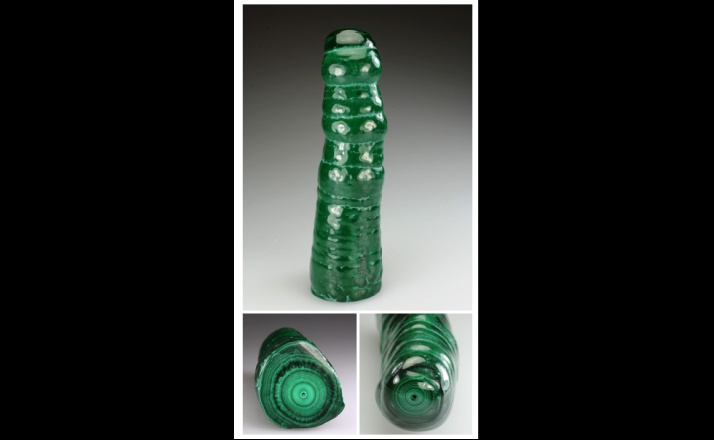 (Impressive girth, no??)
While geologists may be fawning over the image of this from a strictly rock-related perspective, most of us are seeing this from a… COCK-related perspective.
Yep.Turns out that polished malachite stalactite resembles a giant emerald dildo.
While these rock images were likely initially posted on Tumblr for viewers to appreciate the beauty, social media has quickly become obsessed with them for more obvious roasting reasons.
First of all, there was the uncomfortable awkwardness of addressing the obvious:

Exactly- it's a giant, rock-solid, all-natural dildo, compliments of Mother Nature!
So now that we've acknowledged that the malachite stalactite is basically a "cock rock", the big question on people's minds -the dirty birds, anyway- is: can it actually be used as a dildo?
(Asked for scientific purposes, of course. Totally.)
Social media users were stymied by this dildo dilemma, & appealed to the experts for help in a hilariously blunt thread.

Understandable. Though I'm betting this convo would be the most interesting one she'd ever had with her geophysicist brother about his work…

At this point, we need a geologist to "EXPLAIN", pronto.

There you go. Don't fuck the rock -excuse us, the malachite stalactite. He did say, "please".

For the love of all things holy- leave the poor cock rock alone!

Well… it all depends on where you stick it! This expert's suggestion: practice safe stalactite sex by using a condom if you choose to get down with this vag-dyeing dildo. Noted.

NOPE, never mind. Skip the rock sex, even with a condom. Avoid sending poison up the puss!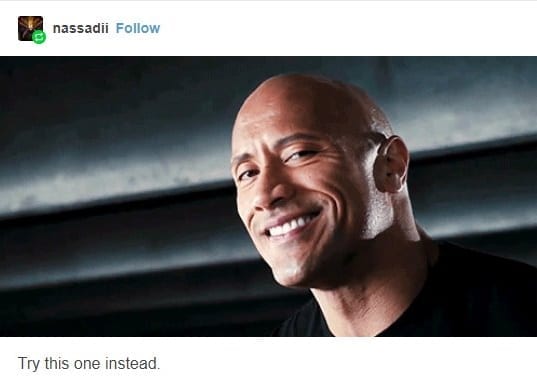 (Well, not all Rock Sex is poisonous. Some is frigging awesome, I'm betting.)

So… you're saying there's a chance?
There was quite a bit of division over this dildo, stirring up plenty of conversation. Even Buzzfeed weighed in on the matter.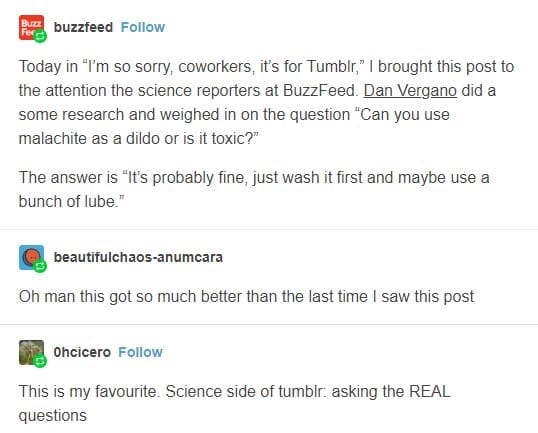 Beautifulchaos-anumcara, you're absolutely right; this IS getting so.much.better.
But for those looking to get their rocks off with this rock, hang on just a sweet minute. Although Buzzfeed experts gave the green-light on diddling with this dildo, a biologist disagrees: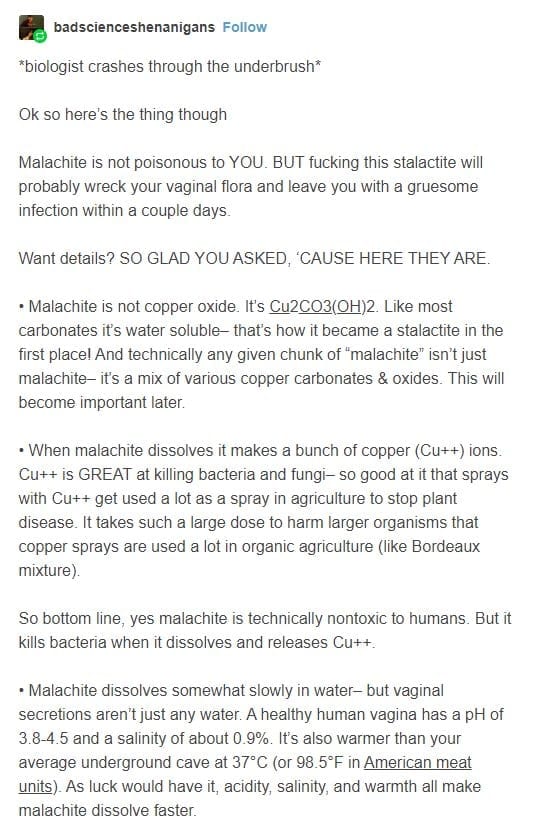 Not sure what all the C++ jargon is, but who wants to "wreck vaginal flora" with the stalactite sauseege??
But for those looking to get down & dirty with the emerald dildo, here's some clarification:

Oh, too bad… while shoving the all-natural cock rock up your pooper might be biologically ok, turns out it's the wrong shape for those sort of shenanigans.
While social media is still stewing over whether or not malachite stalactite is a viable dildo option, suffice to say that the huge discussion that ensued from the original post is surely the most exciting moment of bijoux+et+mineraux's Tumblr career:

To check out the full dildo discussion:
Posts like these are why I'm still on tumblr ?https://astolat.tumblr.com/post/144069870158/badscienceshenanigans-0hcicero#science #sorta

Posted by Jess. Wong on Thursday, August 6, 2020