One of the perks to hitting a store after Easter is the chance to score some sweet discounts on all sorts of candy & other fun basket goodies. After all, who doesn't love a bargain, right?
Well… some deals may unexpectedly end up being WAY more than you bargained for, apparently.
When Minnesota mom Tamra Lerum recently hit her local Walgreen's with her young son Finn in tow, she was more than happy to let him pick out a few toys from the bargain bin. He chose a squishy sold by Orb, known as "Odditeez Fuzion Foodz".
At first glance, it seems reasonable. Kids love squishies, and as you can see from Tamra's picture, the packaging is pretty damn adorable. Plus, each squishy is packaged inside it's own peel; you peel down the cover to reveal the squishy toy inside.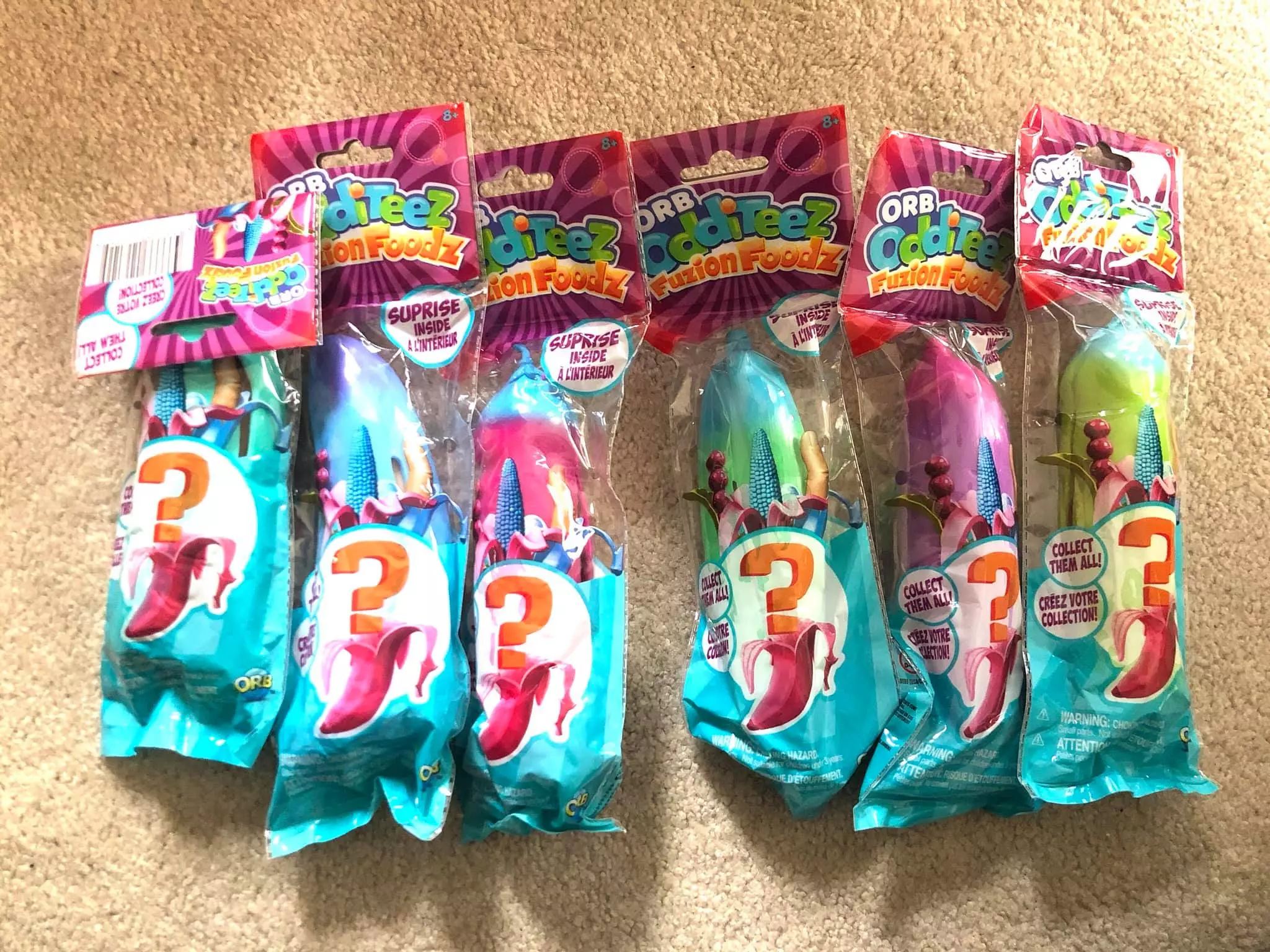 Tamra snatched up several of these squishies, because at a reduced price of fifty cents a pop, who wouldn't? And as she pointed out in her post,
They're super squishy, and I figured whatever it has cute packaging and it's a good sensory toy for a toddler.
But what they ended up with, however, was less of a series of sweet banana squishies and more of a bunch of skinny.squishy.schlongs.
Yup. Toys resembling floppy dildos, people.
Note that Orb included the tagline, "Collect them all!" on the package. No thanks, Orb. No one needs that many sexy shapes. Just no one.
You can't necessarily tell that from the outside of the package, of course- based on the, um, "tip" that you see, it appears to be a harmless squishy banana. But as Tamra described it,
they're packaged super cute and appealing for kids… Then you open the package and peel them! Inside is a surprise!
Oh, it's a surprise, all right. A big old sex-toy-looking surprise!!
The story gets better; as Tamra explained, they opened up just one at first. Finn was of course thrilled with his cool new toy, and couldn't wait to share it with others:
He pulled it out of his coat pocket when we picked up his older brother today at pre-school! I told him NOT TO BRING IT IN!!! I yelled FINN PUT THAT AWAY!
Still, the story gets even better:
fyi The preschool is in a church!
I'm dying. As, no doubt, Tamra also was when her son's teachers caught sight of the floppy schlong.
But the very BEST part of the story?? They were on sale for 50 cents apiece -a great deal, really- so Tamra bought twelve.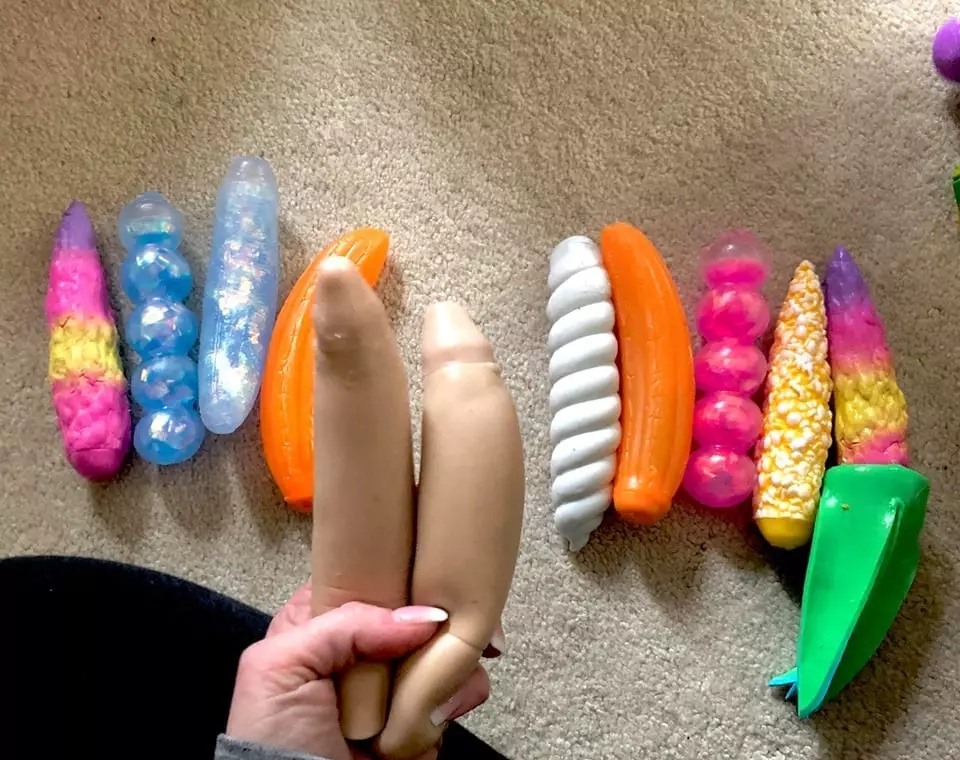 (Like the real thing, the squishies come in all shapes and all sizes… and curves. I'm not sure which ones are scarier; the realistic flesh-colored ones or the ones that appear to be ribbed, maybe??)
So basically, Tamra accidentally bought a dozen dildo-like objects, cleverly disguised to be marketed as kid's squishy toys. We can't really blame her; the packages are pretty… perky.
She bought them at a bargain, though, so that's a plus. But for her toddler son, so that's a big minus.
SO WHEN I CAME HOME I OPENED THE REST OF THEM UP, I WAS DISGUSTED. HONESTLY, SHOCKED.
There are undoubtedly countless parents out there, myself included, that would have done the same, Tamra- we feel you. After all, they are intended to be actual squishy toys, according to Orb. I'm not sure who approved the design shape, though, because peeled pr not, these toys sure do look like sex toys.
And after what will undoubtedly be known as the "Toy Peen At The Church Preschool" incident, Tamra immediately tossed every single phallic squishy.
Although the incident is amusing, the fact that these were marketed as toys for children is definitely gross, & that's why Tamra shared the experience on her Facebook page.
Many of us -myself included- certainly would have bought this item based on the harmless outer packaging. And we would later have had to explain to our kids just why their new "banana" was no longer on the premises. Marketing items like this for kids is disgusting, & Tamra wants everyone to be aware:
"I figured I should forewarn anyone who may run into these toys in the future. I would HATE for some parent to buy them as a party favor for their kids birthday party or something.
While these squishies might make a great favor for a bachelorette party, they are definitely NOT child's play.
The best part? – Tamra is SO not alone. Here's a few more articles of moms that accidentally got more than they bargained for.
Mom Accidentally Buys Questionable Squishy Toy On Amazon, And Her Review Is Hilarious
Young Shepherd Brings Sex Toy to Nativity At School And Mom Is Mortified
Sex Toy Might Be Perfect Solution For Babies And We're Just Glad Someone Told Us