I am one stressed out chic from November first to January second. Christmas stresses me the hell out. It starts slowly and builds to a cosmic level until I'm ready to scream, "Screw Christmas!" And tear every single decoration down in a flurry of madness.
With five kids and many relatives to buy for, we start shopping in October.
We find that one big toy the kids have been asking for only for them to change their minds two weeks before Christmas as they sit on Santa's lap. (Or this year as they talk to him behind a piece of plexiglass.)
Before I had a gaggle of kids, I would spend hours walking the aisles of stores, watching for the perfect gifts to pop out. Now, it's mainly quick online shopping for things that are on their lists because who has the time to spend hours trying to find that "something special?"
Baking with kids is stressful.
While I absolutely love to eat the cookies, making them is a stress all on its own. The kids fight over cookie cutters and sprinkles, looking like ghosts from the flour that has ended up in every nook and cranny, and somehow in my ear.
One of the traditions we started, which I wish we never did, was Elf on the Shelf.
Who can remember to move the little guy every single night? Having to come up with some sort of trouble that he gets into (and out of reach of the dog) and countless excuses of why he's in the same spot is a nightmare.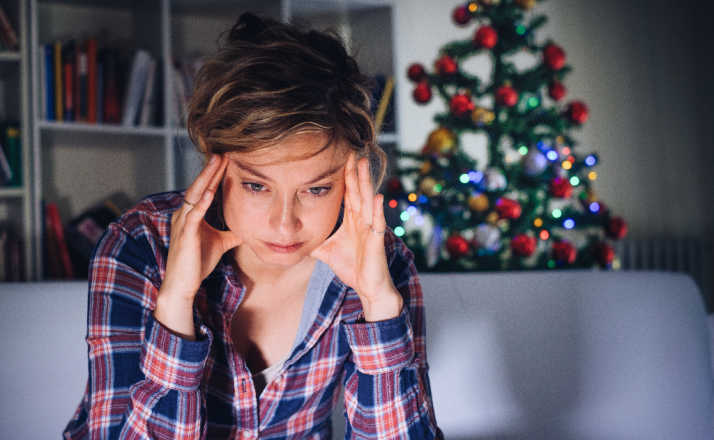 I hate having to spend hours wrapping the mound of presents.
Dragging them out of their hiding spots and trying to keep the dog off the wrapping paper. Trying to wrap each one close to perfection, just like the elves, only to have it rip, leaving a hole I must try to cover strategically.
I pray no one wakes up before they're all wrapped and put back in hiding.
The night before Christmas morn, excited littles bounce on their beds. The anticipation of the goodies waiting for them when they wake, makes sleep a very, very long time coming.
Of course, Santa can't pull out all those presents once again until every eye is closed.
Shortly after the first rays of sunlight peek through the curtains, once again, there's jumping on the beds. Excitement oozing as they race down the stairs. I beg for just one cup of coffee before the chaos that's to come.
Wrapping paper flying, squeals of delight, for one small moment, I bask in their smiles. Then comes the demands of opening each toy, assemble this, assemble that. I pray no small pieces get thrown in the trash. It's no fun to look through those bags, especially when you already put them in the outside bin.
Trying to get the house presentable after Christmas Day Santa's drop for family to visit is nearly impossible.
Making sure there are enough snacks and drinks everyone likes as we're all crowded in our living room with the dog's tail playing baseball with the tree ornaments.
But because of this pandemic, that gathering is scratched this year. One would think I'd be relieved, but it brings a different kind of stress to the table.
If truth be told, I miss seeing the family. The crowded house, loudness levels higher than usual is as much of tradition as hanging the stockings. This Christmas will mark one year since I've seen them with no idea when we'll see each other again.
So while this year is different, with a mixture of old and new stressors, once again, I will be happy when it's all over, and the tree is packed up for another year.