There is steep learning curve when it comes to being a new parent. But one aspect of parenthood that no one can ever really be prepared for is the amount of judgement you'll get from other people on your parenting.
We're talking about parent-shaming. It comes in many forms: often subtle, and sometimes blatantly direct.
And it starts early. Sometimes within days of becoming a parent, apparently.
A British hospital posted signs in their Special Baby Care Unit to guilt new parents into not using their phones while with their newborns.
Dr. Ash Cottrell's child had been born five days prior, and was in the Special Care Unit of Yeovil District Hospital. Obviously a newborn requiring intensive care is a stressful situation to begin with for new parents.
But the hospital threw a dose of parental guilt in there, too, in the form of posters in the ward shaming new parents for being on their cell phones.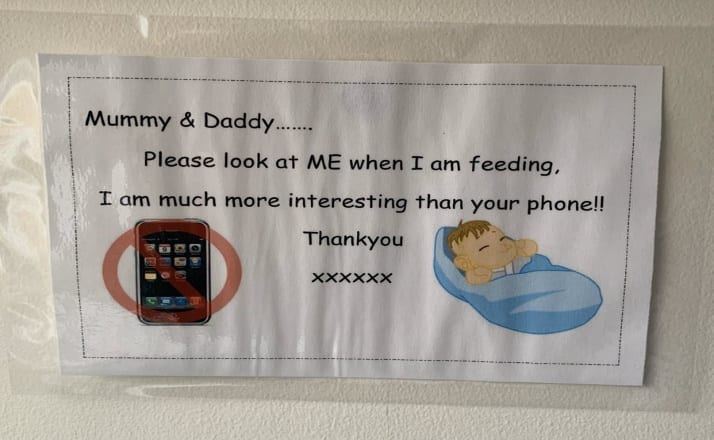 (Notice the big red "no phone" visual, indicating that being on your phone is clearly unacceptable).
Dr. Cottrell was so bothered by the poster that he took a picture of it & posted it to his Twitter account, with the caption:
I'm on SCBU with my 5 day old. This poster makes me sad….
I'm on SCBU with my 5 day old. This poster makes me sad… pic.twitter.com/GYDgcgUtN2

— Ash Cottrell (@dr_cottrella) January 5, 2020
Now granted, making eye contact with your newborn is an important part of the bonding process. And if your baby is alert and seeking contact with you, connecting visually with them is logical.
But as most experienced parents know, newborns often feed with their eyes closed, or are even half-asleep while doing so.
Nursing sessions can last for AGES -ever hear of cluster feeding??- and a phone can be a lifeline for a mother that feels isolated, bored, or stressed.
It's a Special Care unit, so there's bound to be a lot of parental stress to begin with. Then the new mom is faced with a poster that tries to make her feel bad for being on her phone while nursing her baby.
The hospital claims that the "no- phone" posters are meant to encourage bonding between parent and baby, especially nursing moms.
A public statement from the hospital to The Mirror states that the posters were specifically designed for the Special Care Unit, where:
Being separated from your baby is very difficult for many of our new mums and our advice is all about encouraging bonding as well as strengthening milk flow.'
But does guilting new moms about their phone use really "encourage" them?
According to the vast majority on people on Twitter, the answer is a resounding, "NOPE!"
If you can do the feed and phone already you are winning!! Congratulations! (For the baby and the multitasking)

— Jo-Anne Tait (@joeybtait) January 5, 2020
Now THIS is more of the encouragement you'd hope a new mom would receive!
Amen to this. IDK how you are supposed to deal with cluster feeding at 3AM without falling asleep on them if you have to sit in the dark.

— FluVaxAmine PharmD (@KaseyPharmD) January 6, 2020
(Seriously, those feedings can last forever in the wee hours of the night. And usually the only with their eyes open is YOU.)
Gosh, that I so wrong of them to suggest it's 'bad parenting.' Phones are a lifeline to well wishes, normality and so much more when you have a newborn / are in hospital. Wishing you well.

— JulieThompsonDredge (@FramePRUK) January 5, 2020
For many people, their phone is a source of social contact & encouragement…. especially when isolated in a hospital situation.
Yea babies are much more interesting than our phones but we also need advice or support or connect with other people when feeling very lonely in hospital. Babies are super cute but not great conversationalists and the middle of the night can feel very overwhelming x

— Aimee Feltham (@AimeeRFeltham) January 6, 2020
Exactly. Of course we're interested in our babies. But nursing can be a lonely experience… and that's without the added stress of being in the hospital, in an intensive-care scenario.
Nursing, especially with a newborn who often needs cluster feeds, can be a very lonely place. I see no shame in using your phone for distraction/companionship/support. Perhaps you should add the link to this excellent article to that poster…https://t.co/YojEccJigI

— Kate (@DrKateTO) January 6, 2020
Now this is the type of support you'd hope that new mothers would receive. It's supportive, it's empathetic, and it also offers a link to fellow parents doing the same thing… without judgement.
Pfft, all my new born does is cry and shit herself – I'd argue after the 8000th time it gets a bit samey

— Adam Garrod (@adamgarrod88) January 6, 2020
While the poster intentionally targeted nursing moms, I love what this dad had to say!
When your baby is in SCBU you have no option than to sit and look at your baby. All day. For hours. You can't take them home & cuddle & snuggle & be mum. If, for some of those hours, you look at your phone to relieve the tedium of hours on the ward, nobody should tell you off.

— G Paris (@WifieParis) January 6, 2020
THANK YOU!!
I don't agree at all. Whatever gets you all through the night is fine. SCBU/NICU parenting is stressful enough, let people find connection and distraction wherever they want to. And manage their own lives. No guilt for not gazing at baby 24/7, thanks

— ?????????? (@Catreeeena) January 6, 2020
Good point- we're talking about adults that can make their own decisions- "and manage their own lives." They've got this, hospital, without your dumb posters.
Dear new parent in an impossibly scary and worrying situation – we, your baby's caregivers, will use emotional manipulation while leaving kisses & pretending to be the voice of your child. We hope you continue to trust us to make good decisions for your little one

— Dr Charlie Briar (@charlie_girl) January 5, 2020
This is precisely the point. The very institution that should be providing the most encouragement is making new moms feel bad, & it shouldn't be happening. Period.
While the hospital claims that the posters have sparked "positive interaction" between staff and patients, they might be doing more harm than good for impressionable, insecure new parents.
What new parents need is support and positive encouragement, not guilt or doubt. This is especially essential for moms of babies in SCBU or NICU, where there is already so much stress, pressure, and fear of the unknown.
Maybe the hospital should ignore their own advice and pick up a phone to see what social media thinks of their new mom-shaming campaign.