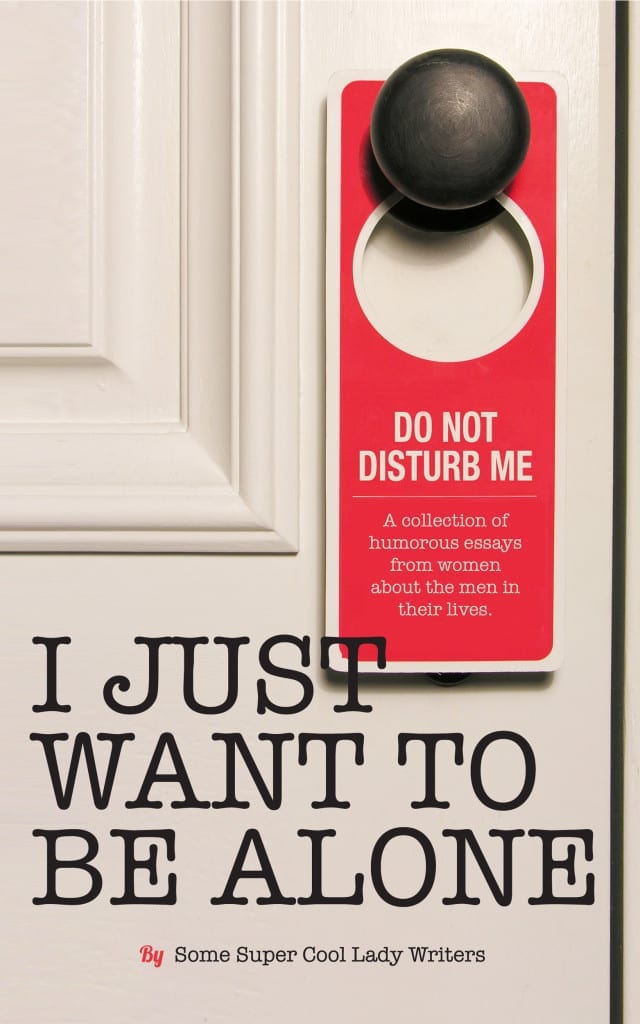 Look above. See that cover? That's the cover of genius and a whole shitload of laughs! I'm so excited to be taking part in the cover reveal of I Just Want to be Alone by Jen of People I Want to Punch in the Throat. This much-anticipated book is the follow-up to the best-selling I Just Want to Pee Alone (IJWTPA),  a collection of hilarious essays from 37 of the most kick ass mom bloggers on the web.
So what can we expect from I Just Want to be Alone? Jen was awesome enough to answer a few questions:
What inspired the cover of this new book?
We were sort of torn at first. As much as I love the toilet from IJWTPA there wasn't a way to keep the toilet, but we wanted to keep the same "feel" as the first one since it's the second in the series. My husband and I were brainstorming about what says "Leave me alone" and we both said "Do not disturb sign" right at the same time. We went back to my amazing designer, J Caleb and told him our idea and he was able to come up with another bold cover that has the same feel as IJWTPA.
How is this book different than IJWTPA?
The first book was all about motherhood and the lament most mothers of young children feel. This one is about husbands and boyfriends – the men in our lives. We love those guys, but we also love a quiet night home alone. As women we're drawn in so many different directions by jobs, responsibilities, kids, husbands, etc. that we dream of just a few hours to ourselves. This book is full of hilarious stories about the men who drive us crazy.
When will we be able to purchase the new book?
The book is available for pre-order now on Amazon for paperback and Kindle. It will be released on March 22.
What types of stories will we find inside?
So many funny stories! I don't want to give anything away, but I can tell you that there are dating disasters, tense unromantic marriage proposals, manscaping gone awry, annoyingly skinny husbands, advice to future husbands, and how dating is a bit like the stages of grief.
A half hour at Target alone or ten minutes enjoying a meal uninterrupted?
For me, it's a half hour uninterrupted at Target. I'll roam the aisles at 10 o'clock at night just to get some me time.