Before my first child was born, I had a pretty good handle on what to expect. I was "prepared" for parenthood (well, as much as anyone can really prepare before being thrust into the actual fire of raising kids).
I knew about diapers and sleep deprivation. I knew my career would undergo changes. I knew I wouldn't have time for myself the way I once did.
Later, as hubby and I continued to expand our family, we knew we'd be taking on new challenges once again.
We knew that each additional child would shred our already limited personal time. We knew that each child would multiply the activities and school obligations we'd be juggling. We knew that each child would add to the household expenses.
But there was one thing we didn't really account for: the noise.
HOLY MOLY, THE NOISE.
The baby books and my friends with kids went on and on about the challenges of parenting, but no one thought to specifically mention how loud it all is!
When a child is sad? Noise.
When a child is angry? More noise.
When a child is happy? Even more noise.
When a child is just going about their daily routine, brushing teeth and getting dressed?
SOMEHOW THERE IS STILL SO MUCH NOISE!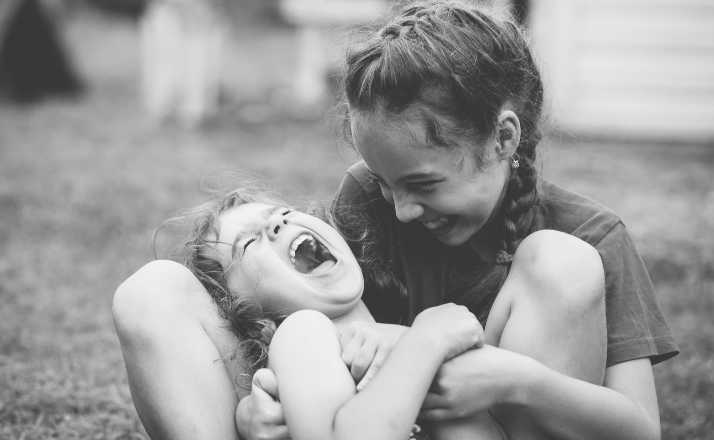 When I was younger, I used to think my grandparents were "so weird" because they drove with their car radios off. Now I get it. One set had raised three kids and the other had raised seven.
They'd already experienced enough noise for a lifetime!
It's not even like my disposition was anti-noise to begin with. My mom is hard of hearing, so my family speaks loudly. Plus, half of my family is enormous and Italian. Noise is just a given. I also taught high school for a decade, which means 150 teenagers per year, yakking it up in a confined space with me.
Yet even still, I found myself completely overwhelmed by the noise of parenthood. It turns out, all of my previous, noisy life experiences had nothing on the three children I've created.
My three boys can out-max My Big Fat Greek Italian Family and my classrooms full of teenagers without even batting an eye. I can only imagine the complete shock to the system parenthood must be for someone who comes from a more "peaceful" background.
Literally, nothing my children do is quiet.
If I say, "Let's whisper because your baby brother is still sleeping" my kids respond with whisper-screams of,
"OKAY MOMMY! I'M WHISPERING SO BABY WON'T HEAR US! WE CAN'T TALK LOUD BECAUSE BROTHER IS SLEEPING! THAT'S WHY WE HAVE TO WHISPER!

AM I DOING A GOOD JOB WHISPERING?!"
Even the so-called "Quiet Game" (bahahahaha) is a noisy circus sideshow. The kids maintain silence for approximately five seconds and then the chaos begins with them each loudly accusing the other of talking first and losing the game.
And let's not forget the conversations.
It's great that my boys are at an age where they still want to talk to me. Still, their in-depth conversations with me about Pokémon and the Avengers can feel like they last 1,000 hours when I'm trying to use the bathroom or focus long enough to write a grocery list.
Despite all the crazy that the noise induces, one thing all the raucous makes abundantly clear is that this house is full of life and love. I may end up pulling a Van Gogh and slicing off my own ears before these kids are grown, but I know there will be a day when I miss all this noisy chaos.
In the meantime, I'll understand why my grandfather turns his hearing aid down or off altogether when I roll up with my crew for a visit. I'll also be driving with my radio off for the foreseeable future. Thanks for the tip, Grandpa!