When I was 16, I had big hair and never left the house without my eyes plastered in blue eye shadow. My closet overflowed with stirrup pants in every conceivable color and I must have owned thirty shoulder pad-wielding blazers.
No bare spots existed on my bedroom walls. They were covered ceiling to floor with posters of Jon Bon Jovi, Poison, and other rock gods.
Care Bears and Cabbage Patch Kids sat in mounds on my bed, some wearing Walkmans around their ears, others dressed like Michael Jackson's Thriller.
This, my friends, was the '80s!
Everything about these glory days (YES they were) makes me want to fist pump the air and sway a lighter back and forth in the dark. If you were an '80s teen, you know what I'm talking about.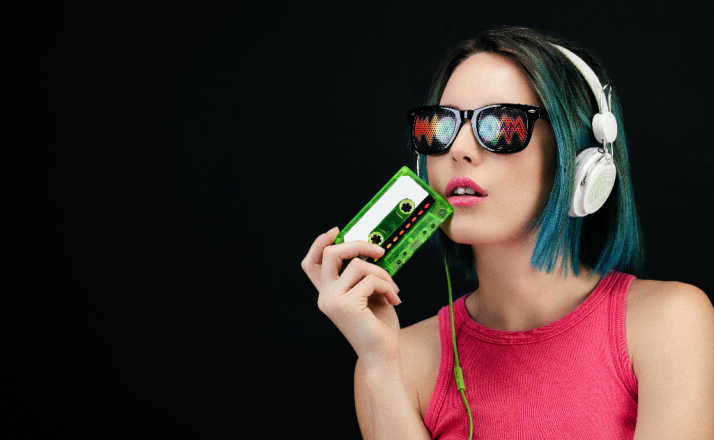 You'll also relate to these 10 '80s hits that should be parenting theme songs (make sure to click the links to get these stuck in your head!):
Think you were busy before kids? HA! You'll feel like you've been thrown into the dryer on warp speed after you've had a few. It's crazy. It's non-stop. And it goes way beyond being spun like a record, baby.
No. Please. Don't. Just let me sleep! Leave me hanging like a yo-yo! I'm okay with that…
When that last child falls asleep, blast this song and get your freak on! Or just sit in silence and relish the moment.
This.Is.Our.Anthem! We are the Rockys of the playground. The champions of all things Lego. We traded our passions for temper tantrums. Just parents and our will to survive those 18 years.
Got teens? Then you already know that your front entrance is like a revolving door at Grand Central Station. If the door isn't spinning, the phone is ringing, the Skype is calling, or the Snap Chat is pinging. Who can it be now, damn it?
At some point, almost all of us will experience a rebellious child. You know what? We're not gonna take it! We're gonna put our feet down, stomp them hard, and say, "Go to your room! Now!"
Just had a baby? This is YOUR theme song! The nights are loooooong when you're feeding a tiny human.
If you're a parent, chances are you've already gone crazy. So let your hair down, grab the kids, and really go crazy! Do the crazy shake! Bounce like Bubble Guppies. Hell, drink chocolate syrup directly from a bottle! Just have some fun.
This list would not be complete without the Wind Beneath My Wings. Parenting is hard. It's THE hardest job on the planet. But those little ones mean everything. They are truly the wind beneath our wings.