I don't know if you've noticed, but the standard for kids' birthday parties seem to be continually rising. My Super Sweet Sixteen used to be an MTV show that provided all the "regular" people out there with something to gawk at because it was truly abnormal and a bit obscene.
And yet, now… even toddler birthday parties seem to be ratcheting up the stakes in a manner worthy of reality television.
What used to be a simple cake with family and maybe a few friends has become a full-fledged birthday production. If you're looking for toddler birthday party ideas that won't break the bank (or your sanity), don't worry. There are still options out there for you!
Throw an Old School Birthday Party for your Toddler
This is my favorite option for a toddler birthday party, and probably the most obvious antidote to the current trend.
Ditch the complicated theme and elaborate invitations and throw a good old-fashioned 1980s birthday party for your toddler.
What's the theme? Well… the theme is whatever character-cake you order from your local Target bakery. If you really want to double-down, pick up some themed plates at the Dollar Spot as well.
Keep the invitations to immediate family only. After all, no one is exactly dying to attend a toddler birthday party anyway.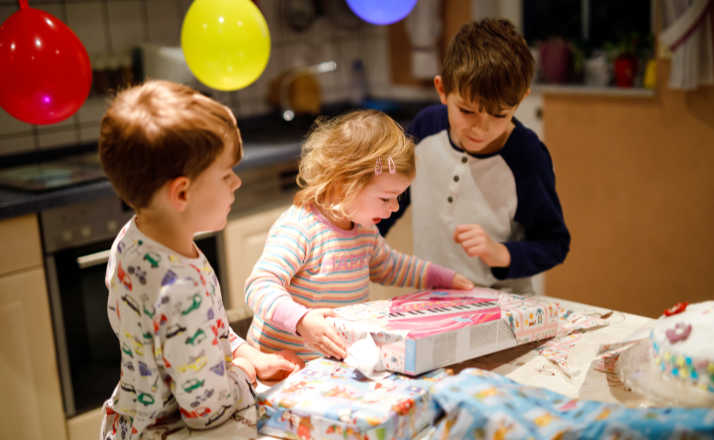 Boom, you're done. As long as you snap one good photo of your kid with their cake, you're more than set. Best birthday ever.
Throw a "Fiver" Party
At a "Fiver" Party, as the name suggests, everyone gifts the birthday child a five-dollar bill. This is super easy for your guests and keeps the expense down (I mean really, how many actual gifts can you find for $5 or less?).
It also communicates your laid-back expectations. Frankly, the concept of money is mostly lost on a toddler, but they will still find it novel, especially if they have older siblings.
As a bonus, your toddler won't receive a billion toys you don't have room for. You can put the money toward an activity he or she will enjoy that won't take up permanent residence in your home. Victory!
If you're worried this is tacky, I get it. If it feels weird to specifically request money, you can always go the no-gifts route.
I know a lot of parents would prefer this, but it also puts the guests in a bit of an awkward position — do they honor the no-gifts request? Do they send a gift anyway? Do they make it weird? Going with the Fiver theme eliminates some of that uncertainty.
Host a Book Exchange Party Toddler Birthday Party
We did this for one of my kids' birthdays one year and it was awesome. Most parents of toddlers have a ton of books lying around their home.
Hosting a book exchange birthday party for your toddler is a great way to breathe new life into some of the older books you no longer read and get a new stash of books.
How it works: on your invitation, indicate that instead of a traditional gift, each party guest should select a gently used book from their own home library.
They should wrap it and that is their birthday gift.
Meanwhile back at your house, you will also assemble a bin of gently used books that have fallen out of favor with your toddler.
Instead of traditional party favors (ie goody bags of useless crap no one wants), when the birthday party ends, your guests will each get to select a book from that bin to take home with them.
Your toddler still gets the thrill of unwrapping gifts (which, let's face it, is most of the fun for a toddler) and your guests don't have to spend any money.
Even better, the party nets zero additional stuff! For each new-to-you book that comes in, a book also went out. This may not seem like a big deal if this is your first child's birthday party, but if your toddler has older siblings, you're likely already overrun with kids' toys.
Throw a birthday party at a party place, but without reserving an actual party
If you really don't want the stress of hosting people at your own house (or space is an issue), you can always host your toddler's birthday party at a traditional "party place" (Chuck E. Cheese, a bounce house, etc.). Still, those things can get pretty elaborate and pretty expensive quickly.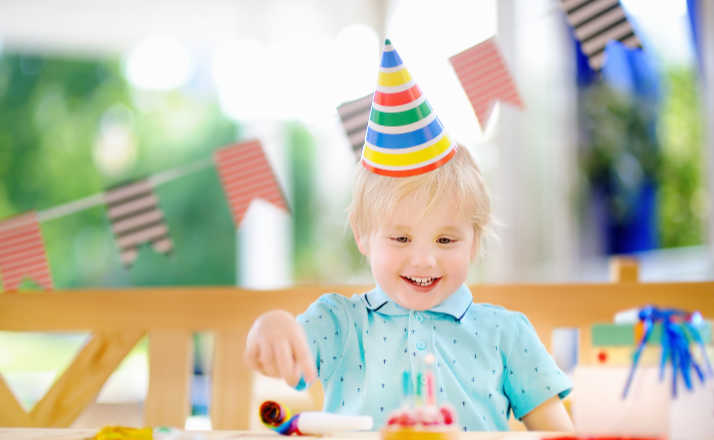 One way to have the best of both worlds is to keep the guest list small and just attend as regular patrons. In most cases, there's no need to reserve an actual party package.
Invite a few friends or family members to meet up at the play place of your choosing and have a mini-party. Sure, the giant mouse may not come out and sing "Happy Birthday" to your child, but is that really a bad thing? (No. It's not.)
*If you decide to go this route, be sure to check the rules of the particular location in advance. Getting kicked out would be a definite "party foul," if you know what I mean.
The critical factor in a low-key birthday party for your toddler is YOU.
The key to having a toddler birthday party that doesn't spiral into ridiculousness is your attitude and approach. If you treat the party like the low-key get-together it is, so will everyone else.
If you send out embossed invitations and decorate to the nines, you're setting the stage for a bigger production.
There's certainly nothing wrong with throwing an elaborate birthday party for your toddler, but it's important to know what you're getting into.
I've definitely thrown my fair share of big, themed parties (party-planning and baking really used to be my thing, before I birthed a boatload of kids). However, don't let anyone, or even social expectations themselves, pressure you into hosting a party beyond what you want to manage.
In the end, however you decide to celebrate your toddler's birthday, your child will be happy.
They'll love having cake, opening presents, and being the center of attention, no matter how complicated or simple the party.
After all, most unrealistic expectations for toddler birthday parties these days are self-imposed. If you don't want to throw a complicated party for your child, don't!