If you're a single mom, you know the struggle is real to find a way to work and provide for your kids. The good news is there are a ton of great stay-at-home jobs moms can easily do.
No matter if you're a single mom or just trying to find a way to supplement your income, there are things you can do at home to make money.
What are the most popular virtual jobs?
There are a ton of virtual jobs out there that are open and available. Be sure to focus on your skillsets so you can shine brightly while you're looking.
Many of the virtual jobs include photography, writing, social media work, and even being an assistant to a person or a company.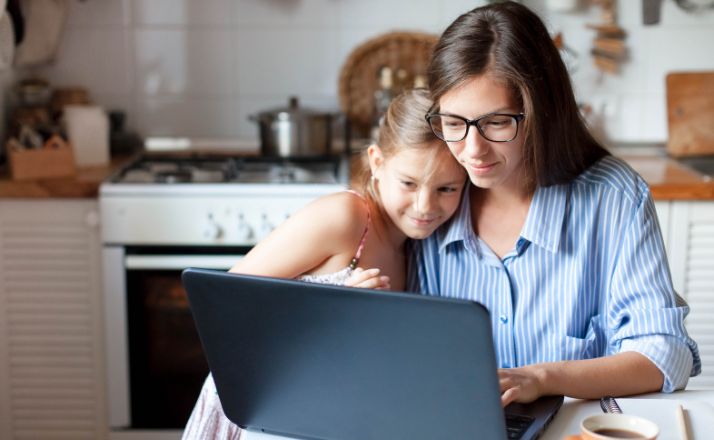 What is the benefit of working from home?
When you're a single mom, the biggest benefit of being able to work from home is that you're near the kids when they need you! Having a home office to do your work is a wonderful and great thing!
This means you can have some flexibility in your day. You don't have to spend hours commuting or spending money driving to and from a job site.
Virtual Jobs for a Single Mom
Below are just a few job ideas that are great for single moms or moms wishing to earn a bit of income while staying at home with the kids.
Yes, you can get paid to blog! If you can find a niche that is helpful to people, you can earn money! This will take a few years to happen, but hard work can pay off.
Setting up a studio in your garage would be a super cool way to have clients come over and take family photos.
Did you know people and companies will pay good money to have assistants who help them keep track of their schedules? If you have organizational skills, this is HUGE!
Who doesn't want to get paid to sit online all day? Okay, there might be a bit more to the job than that. But you can easily get paid to help companies and individuals grow their social media following.
Do you like to write? Do you have a way with words? Blogs and online outlets will pay for your thoughts, and you could easily earn a decent income writing for others.
Don't forget to network around your town and state as well. There are so many ways individuals and businesses can benefit from hiring a virtual worker.
If you're skilled and trained in bookkeeping or accounting, that is another huge chance to work with companies from all over the state!
The sky is the limit on things you can do from home to earn money. With how accessible everything is, now is the time to start making money from home!