In the past year or so, I've had the pleasure of taking part in the crowdsourced review phases of two of Guy Kawasaki's books, What the Plus! G+ for the Rest of Us (which I continually reference and recommend) and, most recently, APE: Author, Publisher, Entrepreneur – How to Publish a Book. APE (ISBN 978-0-9885231-1-1) took me by surprise, because I thought I had a good grasp and understanding of the world of self-publishing.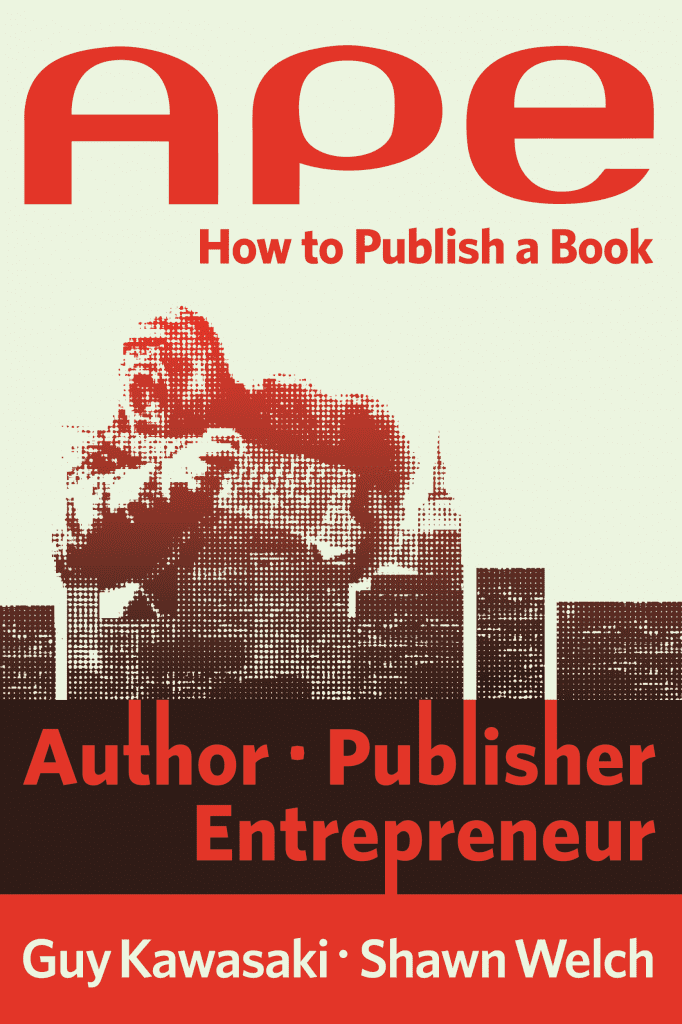 Turns out, I don't – or didn't, until I read this book.
As Kawasaki explains, self-publishing can be "a mystifying, frustrating and inefficient task" if you do not understand the complexities.
If you're considering writing a book or have already written one and are now exploring how to get it read by someone other than your mother, APE is for you.
APE breaks down the process into digestible chunks, never over-whelming or causing the reader to zone out. Oh, come on now.
You know you've drifted off to foreign places a time or two while reading a how-to book. It's okay.
Kawasaki and his partner-in-crime, Shawn Welch, will not put you to sleep.
That's good news for all the weary-eyed mamas out there who have books to get published. In true Kawasaki style, the tone is conversational with personal stories, humor and anecdotes injected throughout.
This book will answer every question you could ever have about self-publishing or "artisanal publishing" (as they call it), when "writers who love their craft control the publishing process and produce high-quality books."
Kawasaki and Welch brilliantly bring to light how self-publishing is a business, requiring a writer to fulfill several critical roles: author, publisher and entrepreneur.
As author, you need to make the decision whether to undertake the challenge of self-publishing or go the traditional publishing route.
APE presents a number of thought questions and describes in detail the pros and cons of both approaches, helping you to make an informed decision. You'll learn all about the self-publishing revolution and even how to finance getting your manuscript to print.
Next you'll learn about the role of publisher.
This is where things can get complicated. APE eases you into this role by explaining in layman's terms everything from how to edit your book to issues you might face as you get ready to self-publish.
Finally, you make the transition to entrepreneur.
How do you plan on getting the word out about your newly self-published gem? How will you market it and build your brand? APE has the answers to these questions and more.
As a part-time social media consultant, my favorite section is Entrepreneur as the authors focus heavily on how to use social media to market your book. The one thing I cannot get used to or endorse, is social media being hyphenated in any way, shape or form.
I had a short conversation with Kawasaki over why this is necessary, but it still looks creepy to me. Minor hangup. I love the book and highly recommend it.
APE is like the Better Homes and Gardens New Cookbook of self-publishing.
If you're a novice, you need this in your arsenal as it will guide you through the process, step-by step. If you're an expert, you can still learn something by picking up a copy of APE. For example, did you know that you can import all your Amazon purchases into your Shelfari bookshelf?
Do you even know what Shelfari is? See! Buy the book. Read it. Become instantly smarter.
APE delivers all that it promises and more. It's the recipe for self-publishing and a roadmap as you become author, publisher and entrepreneur.
APE is on Amazon (and only Amazon for ninety days) at:
About the Authors
Guy Kawasaki is the author of APE, What the Plus!, Enchantment, and nine other books. He is also the co-founder of Alltop.com, an "online magazine rack" of popular topics on the web. Previously, he was the chief evangelist of Apple. Kawasaki has a BA from Stanford University and an MBA from UCLA as well as an honorary doctorate from Babson College.
Shawn Welch is the author of From Idea to App, iOS 5 Core Frameworks, and iOS 6 for Developers as well as the developer of several iOS apps. Previously he worked as a senior media-editor for Pearson Education. He also helped pioneer many of Pearson's earliest efforts in iPad solutions. Welch has a BS from Kansas State University.